I suffer from chronic intractable migraine without aura. That means that my migraine attacks are sudden, without any warning and without stop. At its worst, my migraine was years long. Yes, you read that right. Years. My pain, on that overused scale we all know and loathe, was a 10/10, with my 10 climbing steadily higher, and my pain tolerance creeping up with it. Nothing worked to stop it. None of the preventatives I was on, none of the abortives they tried, none of the cycle breakers worked for longer than a few short hours of temporary relief. And nothing they did could ever predict them. My triggers were a big question mark because I was in constant pain.
I went from never knowing what a migraine felt like to not remembering anything else.
Enter CGRP
Then one of the CGRP medications, Aimovig, hit the market. My doctors held out hope for it. One even told me that there was nothing else that he could do until the long-awaited CGRP medications were authorized for use. After it was approved by the FDA, I was immediately put on it. Within two months, I was pain free. Not pain-reduced, not temporarily relieved. Pain. Free. I went from 100% disabled to 100% pain free seemingly overnight.
That came with fears of its own. Did I know how to function in the world as a "normal" person again? Did I still belong to the amazing migraine community that embraced me for so long, where I had met some of the best friends I could ever hope to find, where we were all bound together by this big mess of brain pain? And did I have a ticking clock left on the time I would feel good before my pain returned?
New Normal
I took it slow, easing back at a speed I could handle without pushing myself too hard. There was still the fear that I'd shatter the precious relief I was feeling. I went to the gym and found that it not only felt good, but that it helped me conquer some of those anxieties. It showed me my strength. I wasn't just a migraine. I was able to do tough things. And I went back to work. At first, I didn't take on the high-stress public health position. I worked at a movie theater. I could control what I did (and did not do). And it pushed me to be productive again.
I went to RetreatMigraine where I met some of the best people I know. I was reassured that I was always a part of the community. When I felt a major dose of guilt (I felt good when the same CGRP medication didn't work for so many others), my biggest cheerleaders surrounded me. I was told by multiple people, multiple times, multiple ways that I didn't need to hold on to any guilt for feeling better. After all, I was providing hope that life could be "normal" again.
Fear
I kept close track for a long time, charting every milestone. One week without pain. One month without a migraine attack. A whole year, something I never thought would be possible. I figured that if I went a certain amount of time, it would be over for good. Yet I still had a nagging fear in the back of my mind that something would go wrong: I'd backslide completely; Aimovig would stop working; nothing else would work; this life I've built for myself – a life after migraine – would suddenly disappear completely.
It's not a completely unfounded fear. Migraine is a tricky one. It sneaks up when you least expect it. It lasts for however long it wants to last (what you want doesn't matter) and comes back whenever it wants to (again, your plans mean nothing). I built it up so high in my mind that I found myself subconsciously hoping for a migraine to prove to myself that I could handle it. That it wouldn't control me again. That I could win.
It took some time — a couple years, a lot of stress, a new job and a pandemic. I had my first post-disability migraine in October 2020. And you know what? I beat it.
Written by:
Abigail Banks
Patient Advocate
On behalf of CHAMP's MHAM committee, we would like to thank all of the participants…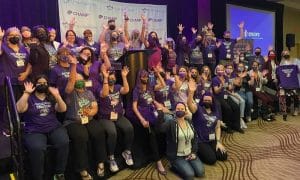 June 29, 2012 Where were you? What were you doing? Can you remember? I sure…
Advocacy is empowerment. Migraine advocacy makes me a better mom in ways I hadn't expected.…