Every June marks Migraine and Headache Awareness Month. Chronic Migraine Awareness, Inc. (CMA) spreads the call to action by distributing printed material, pens, bracelets, coloring books, magnets and pins. We also proudly wear our t-shirts, pins, bracelets and wave our rally flags with our mascot on it. These simple, but fun things draw people to us, and it opens the door to educate people about chronic migraine.
Chronic Migraine Stats
Most people are shocked to learn that there are approximately four million people living with chronic migraine. Usually, they are unaware that chronic migraine is not simply a bad headache, but that it involves almost every system in the body and takes people away from their lives. Migraine is considered chronic when we cross the threshold of 15 or more migraine/headache days per month. People living with chronic migraine loose many workdays per month and spend a lot of money on treatments. The Migraine Research Foundation estimates the cost at $36 billion in the U.S. per year. We advocate to educate people about our debilitating, invisible illness to bring more understanding and empathy to our disease. Sometimes it is extremely hard for people to understand what we go through. CMA tries to break through the barriers with fun initiatives.
Chronic Migraine Awareness Day
June 29th is Chronic Migraine Awareness Day (CMA Day), and we ask everyone to #RallyAgainstChronicMigraine with us! Catherine Charrett-Dykes began CMA in 2012. On June 29, a small group went to the Metropolitan Museum of Art in New York City. They had a few shirts with a purple and red striped ribbon on them; they also had bookmarks made up with some facts about chronic migraine. Their small group peaked people's interest, and they struck up conversations with the curious passersby. Cat states that many people shared stories of their family members who also lived with migraine disease, some of which had pain every single day of their lives. She goes on to say that because of the empathetic and understanding audience, they felt that they were in a safe place to share personal stories. And so, this became Chronic Migraine Awareness Day.
From these small beginning's CMA has grown to a nonprofit organization consisting of approximately 50,000 members and has reached 93 countries! Amazing! Some of CMA's newer initiatives include The Rally Chronicles on our YouTube channel Chronic Migraine Awareness where we ask people living with migraine or their care partners to tell their story on video. This past April, we started a TikTok account where you can find information on chronic migraine and our initiatives, with a smidge of comic relief too (like my acting). We are also on Facebook, Instagram, Twitter and LinkedIn. Our website also contains the link to our blog.
Growth
The past two years, CMA has seen tremendous growth because of the programs offered. Our volunteer base is second to none. Even though many of us are in daily pain, we volunteer for the greater good. Every meme, graphic, quote and blog post means that more people are reached around the world, and they know that they are not alone. We keep fighting and spreading the word so that migraine stays in the forefront of people's mind. We attend Headache on the Hill to share our stories with our elected officials in hopes that money is allocated for migraine research and education for headache specialists.
In past years, CMA has been in Buffalo/Niagara Falls,New York City and San Francisco spreading awareness. No matter where you are in the world, we encourage you to show your support on CMA Day. Like last year, we cannot be in person; however, you can help us on your social media platforms by wearing your CMA t-shirt or purple/red shirt. Wave your Rally Flag, let us know where you are in the world, and take a picture to post with the hashtags #RallyAgainstChronicMigraine and #CMADay2021. We thank you in advance for helping us get the message out to the world.
To find out more information on all of our month-long NMHAM initiatives, visit out website.
On behalf of CHAMP's MHAM committee, we would like to thank all of the participants…
The migraine and headache community recognizes "Headache at Work Day" on June 1 to raise…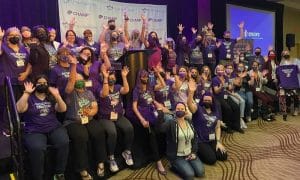 June 29, 2012 Where were you? What were you doing? Can you remember? I sure…