Being a teen and struggling with migraine is very hard. I'm 17 years old and was diagnosed with migraine at age 10; but I have lived with migraine my whole life. I have dealt with difficult teachers and administrators; stigma from migraine; and having to work harder than most people because of my disease. Next year is my senior year of high school. I've learned a lot that I think could help teens like me work their way through high school with migraine.
1. Communicate Personally With Teachers
The first thing I do when I get my class schedule for the year is email my teachers and inform them of my condition. Teachers often don't have experience with kids who live with migraine. Tell teachers about your disease; how it affects you; and what you will need to be successful in their class. It's important to build relationships with your teachers and communicate with them as much as possible. Self-advocacy gets easier over time.
2. Schedule Classes Accordingly
Just like building good relationships with teachers, communicating with your counselor about what your health can look like throughout the day can be incredibly helpful. I often wake up with an intense attack, so I miss the first two hours of the day. We were able to schedule an online class for my first hour so I could more easily make up my work. It also helps to underload the part of your day when you feel the worst, and schedule harder classes when you think you'll feel the best. For me that means easier classes in the morning and harder classes in the afternoon. At the semester break, sometimes I work with my counselor to flip my schedule if I'm missing too much of one class.
3. School Accommodations
The biggest help during middle school and high school is a 504 plan. A 504 plan protects you from discrimination based on your disability and, in my case, it outlines my mandatory accommodations for my teachers to follow. Some ideas for a 504 plan include:
extra time to complete assignments
reduction of non-essential work
tests and quizzes in space away from triggers
unlimited access to food and water
unlimited bathroom breaks without penalty
immediate access to the office if you need medication
ability to put your head down or look away from screens
notes or a notetaker on migraine days
access to the learning center or in-school tutoring
the option of emailing assignments to turn them in.
Realistically, teachers are not always going to want to follow your accommodations. I have had amazing teachers who reach out to me consistently to see if they can do anything to help. I've also had teachers who I needed to pester to get what I needed. My 504 plan is a legal document that outlines exactly what I need. Read your 504 plan so that you can advocate for yourself.
4. Nutrition
Eating right and eating on schedule is one of the most important things for me. Skipping meals can lead to a migraine attack. Once you're off track, it can be hard to get back on track. One of my biggest problems is a lack of appetite during an attack. The best way that I've found to get calories into my body as quickly as possible is making smoothies. I like putting oats, milk, yogurt, protein powder, flax, and other fruits and greens in it. Find a recipe that works for you and make sure you have plenty of the ingredients in your house at all times. Smoothies can also help rehydrate you if you haven't had enough water on a migraine day.
5. Educate Others
Sometimes it's too much to explain to someone the actual extent of what you're going through, and that's OK! However, the more frequently you can educate teachers, coaches, peers and anyone who will listen, the better it will be for you. In my experience, people don't know much about migraine or other headache disorders. Tell them exactly what you're going through so they understand your situation. This advocacy spread awareness for all people in the migraine community.
6. Social Life Balance
One of the most difficult aspects of migraine is how it affects you socially. It can be hard to have conversations when you're experiencing an attack. I find myself more irritable, even with my close friends. Attacks can cause you to miss out on social events such as dances, sporting events or hanging out with friends. I try to do as many things as I can without overexerting myself. That way, if I need to cancel because I am not feeling well, it's OK. Remember that you can go to events and still use accommodations! At school dances, I take breaks from the music and lights by going outside. You also don't have to stay for the entire event.
7. Take Your Time
Knowing your limits is going to be what is absolutely best for your disease. If I have an attack all day and all I did was just lay in bed, I can feel down or unproductive. However, knowing how you feel and knowing that sometimes you just can't get up is okay. The most important thing is recovering from your attack and trying to return to your normal life as soon as you are ready. Try again tomorrow.
8. Be You
Migraine can invoke a lot of feelings: anger, sadness, jealousy are all OK. There is a brighter path ahead for you. A couple years ago I was intractable and was in and out of the hospital for months. I had never had a medicine that worked for me, and things weren't looking good. Eventually, I found a preventative medicine that made a difference and cut my migraine days down by almost a third. My best advice is to stay positive whenever you can. Make the best of the days when you feel good. Find the things that make you happy and do them whenever you can, and always know that living with migraine can be a long road, but staying hopeful will help you get through it.
Those are my tips! I hope you found something that works for you, and always keep trying to find new ways to stay healthy.
On behalf of CHAMP's MHAM committee, we would like to thank all of the participants…
This Migraine and Headache Awareness Month, the National Headache Foundation and our partner organizations turn…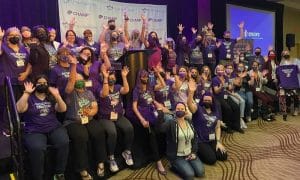 June 29, 2012 Where were you? What were you doing? Can you remember? I sure…