I am blessed to have been a volunteer, in some capacity, for most of my adult life. In hindsight, I realize that I typically chose to volunteer where I could mix service with the camaraderie of working with people. I have enjoyed the diversity of each experience and made forever friends along the way. Some of my favorite volunteer opportunities have been as personal assistant for a disabled attorney/law professor, being a hospital patient advocate, the PTA, as a parent advocate for my children and various capacities within my church and community. Volunteering has been a way for me to give back to the community, work with diverse people, gain a new perspective and learn something new. When I look at these experiences I can appreciate how fulfilling and meaningful they were/are; additionally, I see how they prepared me for my greatest volunteer experience yet, the one I did not choose.
In 2015 my daughter, Ava, got a head injury at school that resulted in chronic migraine disease. I quickly learned that her school did not have a protocol in place to assist and accommodate head injuries and nor did they want to take on the burden of figuring it out. Because I was still learning about chronic migraine disease, and what migraine actually is (not just a headache), I was overwhelmed. While the school had the burden of educating her, it was up to me to fight for the necessary accommodations.
A crash course in chronic migraine disease, help from three of Ava's doctors and expanding my knowledge of a 504 accommodation got the ball rolling. It took many hours, a lot of trial and error, tweaking the accommodations, constant communication with the school and hard work on Ava's part to get her through the remainder of junior high. Our situation was unique because the head injury occurring at school, they were less reluctant to grant us the accommodations for fear of legal action.
High school was the next hurdle. I knew I would be fighting an uphill battle after I was told by our district school that the accommodations Ava needed would not be available. When I pressed them with letters from doctors, 504 accommodation guidelines and even a mother's plea, I was told that she could take her chances. The school was large and did not want to burden their administration and staff with the excessive needs of one student. It was obvious this was not the school for her. The question I faced was where would she be able to attend? After exhausting all of the district and private school options, I had to look outside the box. Online schools as well as homeschool were not feasible as they did not work with the necessary modifications to the work. I eventually landed on a newly opened alternative school that fit students who needed flexibility. Ironically, it was Ava's need for accommodations that ultimately got her in. They had yet to set up a protocol and allowed us to assist in that respect.
Through spending hours doing research, working with doctors, speaking with school administrators and counselors, I have learned it is my obligation to educate the educators on chronic migraine disease before asking for accommodations. I had to educate before I could advocate. They needed to know what migraine disease is, how it affects Ava, understand that it is not a choice when to feel okay and that it is not something she can power through. They need to know Ava is not being lazy and desperately wants her education. Most of all, they need to understand that even with significant accommodations, she is working harder than most students to accomplish this.
This particular experience of being a parent advocate underscored how much time I spent on behalf of Ava's education. It also underscored that while I felt immensely alone in my battle, I had diverse people helping to guide and support me along the way. My advocating cannot be called volunteering, it is what I lovingly did as a mom. I am not unique, thousands of parents who have children with migraine disease have done similar things.
After advocating for Ava at school, I wanted to find a way to educate the schools about migraine disease and have them set up the necessary accommodations. I also wanted to share my experiences, knowledge and sympathy with other parents fighting the same fight. I didn't want another parent feeling overwhelmed and alone. I shared my thoughts with Ava's migraine specialist, Dr. Dan Henry, who happened to be looking for someone who could do just that through his foundation. I needed a platform for reaching out to schools and parents regarding migraine disease in school, and he needed someone who wanted to do it. Suddenly, my volunteering had a direction and a purpose.
I have the privilege of being the Director of Education Advocacy for the Danielle Byron Henry Migraine Foundation. It is in this capacity that I have had the opportunity to share my experiences with the Stigma in Education Committee of CHAMP. I will soon be presenting our combined efforts via comprehensive student/parent and educator packets to the PTA of Utah. If all goes well, we will be able to educate and advocate through the use of these amazing tools, which will help ensure that students and parents do not have to go through what Ava and I did. It will be wonderful to get this program going in Utah and in every state after that.
I still choose to volunteer through church and in my community; however, migraine at school is where I feel my purpose. This is the cause that chose me, which in turn I chose back.
by Melissa Piercey
Danielle Byron Henry Migraine Foundation
Are you satisfied with your migraine treatment plan? Do you have barriers to care? As…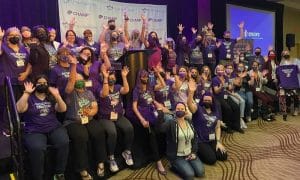 June 29, 2012 Where were you? What were you doing? Can you remember? I sure…
For people with migraine, technology can be challenging with triggers such as bright screens and…