On behalf of CHAMP's MHAM committee, we would like to thank all of the participants and participating organizations in National Migraine and Headache Awareness Month 2021! Our community wrote and read blog posts, attended virtual races and events, partied with purple flamingos, rallied, shared photos and wore shades. We also created a radio Public Service Announcement and gained more media attention than ever before. In doing all these things, we increased awareness, took steps to lessen stigma, and celebrated this new era of care. All this could not have happened without you. Special thanks to all who volunteered to write blog posts and those who participated in the various activities available!
We are so appreciative of the advocates who are moving our cause forward and reaching those who live with migraine, cluster and headache diseases. Your efforts are amazing — they will yield big dividends.
Results of everyone's great work:
The National Headache Foundation
NHF kicked off MHAM with an event in Lincoln Park, which garnered media attention from FOX Chicago-TV, which interviewed Executive Director Tom Dabertin, Dr. Merle Diamond and Daniel King. Segments ran all day and were picked up by more than a dozen Fox affiliate stations in the Midwest. An op-ed written by Tom Dabertin produced 5,397 views, 238 online postings, 68 syndicated articles, 9 earned media stories and 65 social media posts.
NHF's new fundraising campaign, Flamingo Flocking and Adoption, was proposed by Julie Fleck, NHF's Patient Leadership Council (PLC) member. With a short amount of time, NHF created a flamingo virtual adoption campaign, and sent yard flamingos to the NHF Board and PLC. The flamingos brought exposure to the NHF and MHAM through social media posts and community interactions. There were 37 virtual flamingo adoptions and we raised almost $3,000. Finally, NHF sent MHAM Flamingo t-shirts to 100 social media influencers, elected officials and the NHF Board and PLC. Advocates raised awareness by posting photos wearing the flamingo t-shirts.
Shades for Migraine
This is an annual global awareness campaign that challenges people to "show they care and wear a pair" of sunglasses. This year, to reach new audiences, the campaign introduced its Community Leader Program, a Times Square Billboard, a nationwide cable PSA campaign and partnerships with rising influencers.
The Community Leader Program consisted of more than 30 advocates from around the world who set out to raise awareness in their communities using resources and awareness gear provided by SFM. They distributed more than 11,000 sunglasses. Thousands of people took part in the #ShadesForMigraine challenge by posting photos on social media. The campaign reached millions of people and had participants in all 50 states and more than 25 countries. The campaign concluded with the annual photo contest in which the top ten people with the most votes received prizes. There were 1,600+ contestants and more than 15,000 votes cast. Contestant photos can be seen in order of how many votes they received at shadesformigraine.org/contest.
Chronic Migraine Awareness
CMA reached hundreds of thousands of people through multiple social media campaigns. Rally Against Chronic Migraine had a social media reach of 525,000. Chronic Migraine Awareness Day had a social reach of 207,000. And #MHAM had a social media reach of 624,000. CMA also delivered 60 ARMS Kits, 500 Rally Packs and 150 of its Triage Kits.
Miles for Migraine
Just under 2300 people participated in all of the Miles for Migraine virtual June events. Together, participants ran and walked 4400 miles.
Danielle Byron Henry Migraine Foundation
DBHMF partnered with CMA on Remembrance Day. They provided 100 "Shine A Light" cards that were included in CMA's Triage Kits during the month of June. They also partnered with Hope For Pain and Migraine Meanderings for "Managing the Emotional Toll of Migraine" on Facebook Live. And they joined Miles for Migraine for the first Walk, Run and Relax Event in Salt Lake City, raising more than $5,000 for the University of Utah Headache Clinic.
CHAMP
We are proud to be part of MHAM's incredible earned media campaign. It was truly a community-wide effort by CHAMP participants. Special thanks to the National Headache Foundation, Association of Migraine Disorders, Chronic Migraine Awareness Inc., and Miles for Migraine for robust and successful earned media efforts. We are also grateful to the many medical experts and patients who participated in interviews. Our combined efforts resulted in dozens of feature stories across the web, radio, print and on every major television network (ABC, NBC, CBS, Fox). We put a human face on migraine and other headache diseases, and significantly raised public awareness, with a spotlight on the New Era of Care theme.
Thanks to the efforts of our partners and you, more than one million people helped us recognize and celebrate a New Era of Care.
How do we continue to keep Migraine and Headache Awareness alive all year long?
Check out the blog post from Melissa Calise "5 Ways to Raise Awareness in your Local Community." In case you missed other blog posts, you can find them on our MHAM website.
Follow CHAMP and our partner organizations, for activities planned all year long.
Take time to take care of yourself and don't settle if you aren't seeing any improvement in your health. There are so many new treatments and approaches to manage migraine and headache disease; it's a very hopeful time!
Talk to your employer, your family, your friends and someone in the check-out line about your disease.
Know that you are NOT alone. View our 'Join a Community' page and get connected today.
Reach out to a new friend in our community, and let them know you are thinking of them.
We'll be back next year for NMHAM 2022! We are so thankful for this incredible migraine and headache community!
Written by:

Meghan Buzby, Coalition for Headache and Migraine Patients
Wendy Bohmfalk, Migraine World Summit, World Health Education Foundation
June is National Migraine & Headache Awareness Month (#MHAM). Awareness months and dates are vital…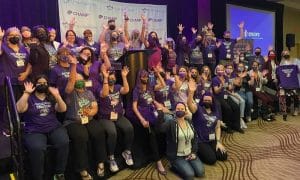 June 29, 2012 Where were you? What were you doing? Can you remember? I sure…

In 2017, I learned about the Shades for Migraine campaign. I immediately fell in love…