Each June, the headache, migraine and cluster community works together to recognize and celebrate National Migraine & Headache Awareness Month (#MHAM). It is our chance to raise awareness, address stigma and build a stronger community of advocates. This year's theme is "A New Era of Care." 
We are truly in a new era of care. There are new treatments, therapies and approaches to managing your disease. Now is a great time to educate yourself and others on the new developments and join us in advocating for the community!
You can start by updating your Facebook profile picture with the MHAM Facebook frame. Just click "Use as Profile Picture" to accept.
MHAM Events
CHAMP and our partners planned plenty to keep you connected, spread awareness and strengthen the headache disease community. This website is a repository for the great activities and educational opportunities planned for the month. Tour the site to see how you can show your support, join a virtual community, participate in one of many MHAM events and share about MHAM. 
Throughout June, a robust lineup of events take place virtually, such as: educational seminars about veterans with headache disorders; how to tackle migraine at work by the National Headache Foundation; a run/walk/rest event in Chicago by Miles for Migraine; Rally Against Chronic Migraine by Chronic Migraine Awareness; Shades for Migraine, a global awareness campaign asking everyone to wear a pair of sunglasses on June 21 to show support for people with migraine, organized by Association of Migraine Disorders; a patient education program entitled Share the Pain Behind the Smile by Hope for Migraine and Migraine Meanderings; the Cure for Cluster 5k by ClusterBusters; and more. View the full calendar of MHAM events >> 
Blog Posts
For the second year in a row, we will feature blog posts from community advocates like you. Some are written by seasoned advocates and some are written by brand new advocates looking for a way to get involved. We ask that you show bloggers your support, and help them feel encouraged as some of them speak up for the first time. Sharing your personal story is a great way to become an advocate — of yourself, of your disease and our community. 
Observance Days
During MHAM, we observe seven special days as a community. Please help us by sharing our community partners' posts and graphics on your personal social media channels. If you don't already, please be sure to follow CHAMP on social media, so that you see our regular posts during the month and help us promote #MHAM. One share from you might just be the spark someone needs to take the next step in improving their health. 
Written by:

Meghan Buzby, Coalition for Headache and Migraine Patients
Wendy Bohmfalk, Migraine World Summit, World Health Education Foundation
As we celebrate Migraine and Headache Awareness Month through June, it's important to acknowledge another…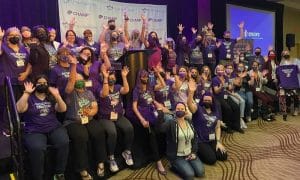 June 29, 2012 Where were you? What were you doing? Can you remember? I sure…
The migraine and headache community recognizes "Headache at Work Day" on June 1 to raise…