Advocacy is empowerment. Migraine advocacy makes me a better mom in ways I hadn't expected. I have more: education; connections;  fundraising experience; and involvement raising awareness for the migraine and headache disorders community. When I first started my advocacy journey, I knew it would benefit my relationship with migraine, but what I didn't know is how it would benefit my family.
Knowledge is Power
Part of living with migraine or a headache disorder is learning about it. Living with it is hard enough but understanding it can seem near impossible. I have found that the more I learn about others' journeys and hear from passionate doctors, the more I understand that it's not easy for any of us. Education gives me knowledge about treatments, disease state, triggers, symptom management — the lessons are endless. There are no answers or cure, so finding my own path is improved with education.
Through events hosted by Miles for Migraine and the Migraine World Summit, I have the opportunity to listen to and learn from experts around the country. There are many organizations that teach about migraine and headache disorders. With this education comes power, and it makes me a better mom. I make more informed decisions about my health, ask better questions to my doctor and make choices that ideally better my life and theirs.
Educating My Children
By educating my children, I am teaching them that 1 in 4 families live with migraine. We aren't alone! Many kids live with a parent who has migraine and, sadly, some kids live with it too. I am so thankful that programs like Migraine at School exist.
By teaching my kids my triggers, they have the power to help around the house. Power to help may sound weird, but I know my children want to help. There's nothing worse than seeing a loved one suffer. Not knowing how to help is defeating.
My children know that siting at a dimly lit dinner table may be the only way I can sit with them. They are OK with sitting in a darker room if I can join them. It may be a small gesture, but this sometimes allows me to hear how their day was and be a present mom.
They know I have a lot of doctor's appointments and that sometimes I don't feel well before and after. This knowledge allows them to understand why I act or react to certain circumstances. Their ears perk up when they hear migraine advertisements on the TV, and they ask me if I take that. Their interest in learning more is so endearing. They are empathetic, and I'm proud of how we adjust to each other's needs. — because all humans have their own needs.
When they were babies, I hid my disease from them because they weren't ready. Now that it is age appropriate, we have more health conversations. We discuss how to be healthy and also to recognize that health can be unpredictable and relentless even if I am doing everything right. While some moms may be discussing calories and fat, I'm teaching them that spinach contains magnesium, which is good for the brain. I encourage mindfulness as much as physical movement. And they move a lot! We pay close attention to the weather, examining incoming and outgoing barometric changes to gauge how I may feel. Since then, I've discovered many ways of discussing and monitoring my migraine disease while incorporating my kids and being a mom.
Connect
Virtually, I have made connections with people with migraine which has enhanced my mental health. If my mental health is good, it benefits everyone in my family. Support groups and blogs such as Migraine Meanderings (Hope for Migraine) and My Migraine Life provide a connection that may not otherwise be possible. Connecting with others allows me to be a part of a community telling similar stories and relating.
Fundraise
In person, events like Miles for Migraine walk/run/relax build local community. As a mom, I include my whole family in fundraising. By participating in this event, I model how important it is to give back. These events encourage physical and mental movement, which is great for me and crucial for my children to learn. Connecting in person helps educate and makes positive memories around my disease.
Raise Awareness
There are many ways to build awareness. By building awareness, stigma is reduced and more honest conversations about migraine and headache disorders can be had. The more I am involved with advocacy, the better mom I am. I have a more positive outlook on my options for treatment and mental health. By educating my children, they are empowered and able to help in ways that are simple but effective. My children see that I am doing something about my migraine disease and not giving up. I am giving to others, giving to myself and building a better world.

Being a Black woman living with chronic daily migraine for more than 14 years has…
This Migraine and Headache Awareness Month, the National Headache Foundation and our partner organizations turn…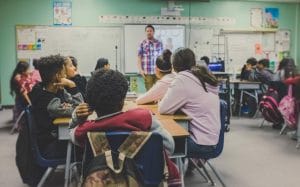 Being a teen and struggling with migraine is very hard. I'm 17 years old and…