Migraine is hard on a relationship and a family during normal times. Throw in the unique and ever-changing realities of a global pandemic, and it makes the situation extra challenging. But it also has given me insights into my wife's world that I would not have otherwise learned, and that might be helpful to other partners and caregivers navigating this new reality.
Wendy has lived with migraine for 20 years – about the same amount of time she's known me, but I insist the two aren't related. Over that time, I've come to accept her disease for the chronic condition that it is, and I've tried my best to practice patience, empathy and care as much as I can. I don't always succeed, and some days I outright fail, but I try. And she's a remarkably patient and understanding spouse. She does everything she can to manage her disease with minimal impacts on our relationship and family, which I know is often hard. And painful.
I knew pre-COVID that – like everyone living with migraine – Wendy has her own set of triggers and conditions that she needs to try to keep in check. As may sound familiar to many, she's sensitive to bright lights, loud sounds and changes in her routine, and often needs a few days to hang back and "build back up" after a severe attack. While she loves spending time with close friends and family, she has to do it in measured doses, unlike I who am happy to have a weekend full of plans, including a loud concert or a baseball game in the sun. We balance each other out.
I knew she needed to start her day with a cup of coffee, relished her daily 5-6 mile walks and enjoyed a quiet house while working. What I didn't appreciate about all those triggers and conditions is just how much she had been able to control most of that while our two sons and I were away at school, work and our own events. Now that we're all in the house together, all the time, it has become more apparent just how much she needs to maintain her routine and her head-friendly environment. That structure is key to her being physically well and emotionally available to us and to friends when we do plan something together.
And that means the boys and I need to adjust our new at-home routines in small but important ways so that we help her. One example: I tend to have a lot of energy in the morning, especially on days that I've completed an early run. By 7:30, I'm ready to share all of my amazing ideas about the day, the upcoming weekend, or summer plans (they really are amazing…at least to me). Wendy, on the other hand, is still easing her mind into her day, mentally checking off what she plans to accomplish with her work, personal life and volunteerism. And my desire to rapid-fire chit-chat really needs to take a backseat most mornings – and even more so now that it's not magically cut off by my leaving for the office.
So I've tried to accommodate that and other triggers the best I can, on normal days, and especially when I can tell it's a migraine day. Little things can help – coming into a room and not saying anything right away or not turning on Sportscenter while I cook bacon (did I mention that strong smells are also a trigger). Sometimes, Wendy is as ready as we are to catch up and chat, and if so, that's great. But the key with that specific trigger has been to pause, take stock of where she is mentally at that moment, and respect that.
We'll make it through this unprecedented period as a family, stronger overall and ideally with more empathy for what we each need. As caregivers, it doesn't take much for us to hold off on loud noise or in-depth conversation, or to turn the lights down during dinner or the now frequent family game nights. I don't mean to suggest such moves are anything heroic or sacrificial, especially compared to what so many people push through during a migraine attack to keep working or attend an important social event. But being together this much has given me, and I suspect our children too, more insight into what it's like to live with migraine every day, and for that, I hope we have become more supportive housemates. We'll see in another 20 years if I've truly learned anything.
by Christian Bohmfalk

In 2017, I learned about the Shades for Migraine campaign. I immediately fell in love…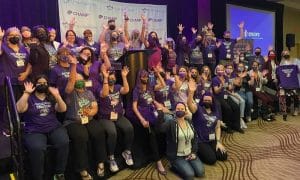 June 29, 2012 Where were you? What were you doing? Can you remember? I sure…

Being a Black woman living with chronic daily migraine for more than 14 years has…