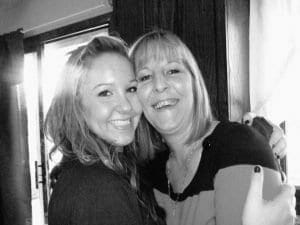 "I have met so many beautiful people who suffer daily. I've received many messages from people who were on the brink.  They thought of Melissa and knew they could not go through with it. I have faith that Melissa's story has saved many lives."
-Becky Dwyer, mother
On June 7, 2013, Melissa Dwyer took her own life. At 22 years old, she had lived in debilitating pain for over a decade. Chronic migraine disease and unending pain had stolen her will to continue living.
She was turned away by four specialists in the last six months of her life. In a story Melissa wrote online, she shared, "there is no worse feeling than a doctor giving up on you." She was told repeatedly she had to learn to live with it. "I was 19 years old and had to withdraw from college. I couldn't work and lived in a dark, quiet room. I did NOT have a life. So, to learn to live with this…wasn't an option because I wasn't really living."
Erin, Melissa's older sister: "Melissa missed family birthday dinners, Billy's high school graduation, and the day I picked out my wedding dress. I don't want anyone else to feel so hopeless and alone in the fight against migraine and chronic pain that they feel suicide is their only option."
Billy, Melissa's younger brother: "Melissa was outgoing and adventurous, with a great sense of humor. Losing my sister has influenced the way I live my life every single day. I decided to pursue a career in social work to advocate for vulnerable populations. If we can put loving people first, and asking questions second, we can change lives."
The Dwyer Family story was originally published in the INvisible Project: Migraine & Headache 2nd Edition. The entire story of her amazing life and legacy can be read here.
by Katie Golden
INvisible Project/Dwyer Family
Advocacy is empowerment. Migraine advocacy makes me a better mom in ways I hadn't expected.…

In 2017, I learned about the Shades for Migraine campaign. I immediately fell in love…

Being a Black woman living with chronic daily migraine for more than 14 years has…