It is largely unknown that migraine is the second leading cause of disability in the United States. And it's not just a "women's disease." Headache and migraine disease affect veterans at nearly the same rate.
Among veterans treated within the VA health system:
1.6 million are diagnosed with a headache disorder
621,000 are diagnosed with migraine
77,000 are diagnosed with post-traumatic headache or traumatic brain injury plus headache.
Perhaps that's why one veteran likened migraine to the "new PTSD." Despite the prevalence of migraine disease and headache disorders, getting optimal treatment can be difficult.
Veterans Affairs Headache Centers for Excellence
Fourteen VA Headache Centers for Excellence provide direct care for veterans and education and training for doctors caring for veterans. These centers also undertake research to improve health care for veterans. But only half of veterans who need specialized headache care live close enough to get treatment. Efforts are underway through the Alliance for Headache Disorders Advocacy (AHDA) to secure an additional $25 million to build another 14 centers.
Since 2007, the organization has been on the front lines of advocating for more equitable federal policies for Americans — including veterans — with disabling headache disorders. It was pivotal in securing past funding for chronic migraine and post-traumatic headaches research as well as the original Centers of Excellence through the annual Headache on the Hill fly-in of clinician and patient advocates.
Raising Awareness
Just as lack of access to specialized headache care remains an issue, so does lack of awareness.
Some policymakers, health care providers and even veterans remain unaware of the condition and the best approaches for treating it. The issue captured public attention recently during a policy discussion about chronic headache disorders and toxic exposure. An event featuring U.S. Rep. Mark Takano (D-Calif.) and former host of "The Daily Show" Jon Stewart explored how airborne hazards and burn pit exposure affected 9/11 first responders and veterans who developed chronic headache disorders.
Improved access to treatment is also the impetus behind Miles for Migraine, which will be hosting the 2nd annual Walk/Run/Relax event to benefit AHDA and support Headache on the Hill in order to bring more awareness to veterans living with migraine and other headache disorders.
The good news? Thanks to advocacy efforts and growing public attention, some members of Congress are answering the call. Rep. Madeleine Dean (D-PA) will introduce a resolution on migraine disease in early June in honor of National Migraine and Headache Awareness Month. The resolution brings awareness to the number of veterans living with the disease.
"It's important we cancel the stigma that is often coupled with migraine and headache disorders," said Rep. Dean.
With continued awareness, advocacy and support, as well as expansion of the Centers for Excellence, veterans with headache and migraine disease can make important strides toward improved access to treatment.
Written by:

Lindsay Videnieks
The Headache and Migraine Policy Forum
Katie MacDonald
Miles for Migraine
On behalf of CHAMP's MHAM committee, we would like to thank all of the participants…
This year, National Migraine and Headache Awareness Month's theme is Advocate for Access. The National…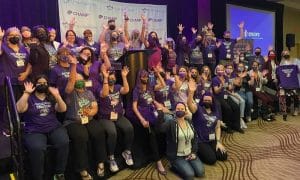 June 29, 2012 Where were you? What were you doing? Can you remember? I sure…